Keeping Fit in the Third Age - Part II
by Sep Meyer
Fitness - If it came in a bottle, everyone would have a great body.
- Cher
My previous articles in this series described the benefits of regular exercise, specifically in relation to people in the Third Age (over-fifties) group. It suggested a number of exercises spread over four categories: endurance, balance, strength, flexibility. It also recommended regular swimming or cycling or (very simply) walking.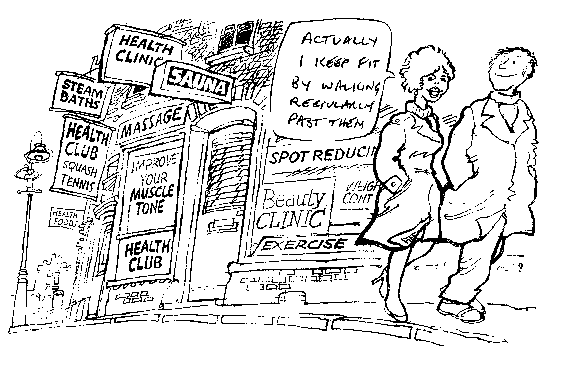 Before reading this short conclusion to the series, I recommend that you refresh your memories (presuming in my realistic - even pessimistic - way that most of you have not yet embarked on the suggested course of exercises, or have fallen by the wayside) by referring back to the previous articles. [If you are the sole survivor . . . my congratulations - and these remarks were not addressed to you.] The rest of you will find the two earlier articles at http://www.nurturingpotential.net/Issue11/Thirdage.htm and http://www.nurturingpotential.net/Issue9/Fit.htm.

Motivation is what gets you started. Habit is what keeps you going

But no matter how enthusiastic you are about exercise, there may be times when you need extra motivation. It's common for beginning exercisers, especially those who are frail, to make fast progress at first. You might get discouraged when the improvements you were making taper off at times.

These levelling-off periods are normal. Often, they mean that it's time to gradually make your activities more challenging.

When you need extra motivation, try the following:

►

Enlist the aid of someone to be your exercise buddy. Many older adults agree that having someone to exercise with helps keep them going.

►

Listen to recorded books or music while you do endurance activities.

►

Set yourself a goal, and decide on a reward you will get when you achieve it.

►

Set yourself a programme of physical activity assignments for a day, or a week, ahead.

►

Keep a record of what you do and of your progress. Do not be dismayed if there are times when you do not show any progress. You will still be benefiting from your activities during those times.

► Make sure the goals you set yourself are realistic ones.

Remember that you are more likely to maintain your programme of physical activity if you

► Accept that you will benefit from them.

► Include activities that you enjoy.

► Feel that you can do the activities correctly and safely.

► Can fit the activities easily into your daily schedule.

► Ensure that the activities do not impose unacceptable financial or social costs.

"People shouldn't feel that physical activity has to be some superhuman or highly disciplined effort. I think once they experience how much better they feel, they'll want to keep on doing it. It has so many built-in benefits."

Dr. Andrew Puckett

BIODATA:
Sep Meyer is a graduate of the London School of Economics and, since his retirement from a commercial life, has been devoting his time to the totally non-commercial activity of writing poetry, magazine articles, book reviews and drama.