Building Bridges - page 2

Bridging Differences with art, music and dance
Oscar Hammerstein: "Here is a story laid in China about an Italian, told by an Irishman. What kind of music are you going to write?"
Jerome Kern: "It'll be good Jewish music."

Commenting on the London String of Pearls Millennium Festival's Building Bridges feature in 2000, one project leader said: "Asian dance is usually quite isolated and the project gave a chance to do more mainstream work and develop awareness of multi-cultural identity."
Indeed, the power of the visual, practical and performing arts to bridge diversity has always been known and has become a major tool in recent years of governments and individuals seeking to bring peoples together in understanding. The growing use of the internet to disseminate information has demonstrated just how widespread globally and locally are the disparate elements that seek to use the Arts to bridge cultural differences and enhance understanding between people of different cultures.
We provide here some mere "toe in the water" examples gleaned from our use of a search engine on the Internet.
From the online edition of India's national newspaper, The Hindu of December 29, 2003
For Nirmala Seshadri dance is a tool to build cultural bridges.
It started as a cultural art form for her. "Growing up in Singapore helped find a connection from where I came from. Art helps build cultural bridges. I am an Indian and I loved exploring that identity initially. . . Later through art education programmes in schools in Singapore one could find parallels in culture and through this one was creating awareness in the South-East Asian children."
From the Carleton University website, http://www.carleton.ca/ssac/overview02.html
"Carleton University has been a real pioneer in the area of non-European art traditions," says Ruth Phillips, an Art History professor who is an expert on Native art of north-eastern North America. "I have learned a great deal from my students, particularly the Aboriginal students that I have taught in recent years. They have been very challenging and rewarding in class because they see art history from a slightly different perspective."
For Elaine Keillor, studying Aboriginal music is a way to build bridges between cultures. "It's easy to appreciate music even if we don't speak the language or know anything about the specific culture," says Keillor, who teaches courses in ethnomusicology at Carleton.
Art for the World. http://www.art-for-the-world.com/
Its mission is to create, through the universal language of art a meaningful and enduring dialogue among diverse peoples, cultures, and world views in order to encourage tolerance and solidarity and to foster education as an human right. ART for The World is a direct outgrowth of the exhibition Dialogues of Peace which was conceived to commemorate the fiftieth anniversary of the United Nations in 1995. ART for The World organizes exhibitions with the participation of artists from all over the world. These events are based on the ideals and goals of international institutions engaged in the promotion of human rights, such as the United Nations, the World Health Organization, etc.

With its underlying ideals, shared by artists, intellectuals, curators, collectors, other concerned individuals, as well as contributing institutions and corporations, ART for The World organizes its special exhibitions and events in culturally significant places around the world in order to develop, on a wide scale, greater awareness and a deeper understanding of creative endeavor and its importance to human welfare. By presenting contemporary works of art specifically conceived for historical sites momentarily turned into contemporary museums, such as a Hispanic convent in Mexico, an Armenian monastery on the Venetian lagoon, or a Medersa in Morocco, ART for The World brings new life to ancient monuments thereby attracting thereby both new audiences and extensive media coverage, and is thus able to spread its message both locally and internationally.
ART for The World is active in the areas of
Exhibitions of contemporary art, music, poetry, publications, symposia, workshops etc., in conjunction with museums, universities, etc., and especially with institutions not customarily associated with the arts.
Promotion of minority cultures: Initiatives designed to foster mutual understanding among individuals and groups of diverse sex, race, faiths and origins.
| | |
| --- | --- |
| | |
| India 2004 | Italy 2003 |
From DAAD (the German Academic Exchange Service) http://www.campus-germany.de/english
Around 50 students, artists and professors from Sudan, Senegal, Egypt, Ethiopia, Syria, and Palestine are involved in a project called "Language of Colours". The participants will take part in work shops and discussions at the University of Bonn and at the Alanus Institute for Higher Education Alfter – the first nationally recognised private Art and Society Institute for Higher Education.
The joint multimedia project, aimed at bridging cultural differences, is not just an artistic challenge. It will try to bring different cultures and backgrounds close enough together to spark an Euro-Islamic dialog. Using art as a medium, the organisers hope to "create a new common language."

Besides attending seminars and lectures at the universities, the participants will go on excursions and gatherings with non-university organisations to make contacts and learn more about German culture from different perspectives and regions.

The "Language of Colours" project is integrated into a comprehensive DAAD program called, "Initiation of sustainable multifaceted dialogues and co-operations between Germany and Islamic countries through the languages of arts."
From the Things Asian website: http://www.thingsasian.com
The worlds of art and religion share much. Both art and religion attempt to hurl us into that world beyond so as to help us understand the world at hand. They often do this, of course, in partnership. And so it is with the work of I Wayan Karja, one of Bali's foremost artists, and the only painter in the island's long, colourful history to have received a Master of Fine Arts degree.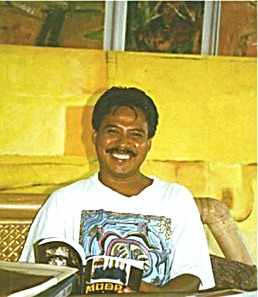 The central focus of Karja's work for the last few years has been to fuse not only art and spirituality, but East and West. The vessel he has chosen to carry this artistic stew is one very familiar to the Balinese -- the mandala. A mandala is a schematized representation of the cosmos, often found in Hindu and Buddhist iconography, and even in Christianity, usually in the form of stained glass windows. Its name comes from the Sanskrit word for "circle," and its design, though always primarily circular, has found many different forms in different cultures throughout the world.
By merging contemporary Western techniques and traditional Balinese ideas, Karja has constructed a new door, a new portal for the complex, modern individual in search of simple, eternal truths. But, of course, the door's complexity belies its simplicity, as its simplicity does its complexity. Surrendering to its passageway, the modern viewer steps through, winding along a maze of his or her own making until another door emerges, which is, in fact, the same door but now without contradictions, without labels of this or that, East or West, old or new. Is this art? Is this religion? The world at hand? The world beyond? The viewer feels no need for distinctions. The self is unified, the heart and the mind at one.
Music builds bridges - Loughborough College - http://www.musicentre.co.uk/www/index.pl
Following the very successful tour of Germany at the beginning of August the Soar Valley Music Centre, the college's music department, resumed their links with Italy when a party of Italian students visited England at the end of August.
The Music Centre has made exchanges with the Guiseppe Verdi School of Music in Prato, Italy for over 20 years. Our more advanced students get the opportunity to visit the Italian music school for specialist tuition and their students return the visit for tuition with the Music Centre. The students are hosted in families which creates lasting bonds between the two schools, and we have families visiting over many years even outside of the exchange.
The Italian students spent a few days in London before traveling up to Leicester. The Music Centre laid on day trips to Nottingham and Bath, and an activity day around Leicestershire and a sightseeing trip around Leicester. The students also attended lessons in their specialist subject and the week was rounded off by a very successful joint concert.
I use drama to convey messages on a theme because drama is visual, oral and aural. The workshops and plays require actors and audience to participate in its action. The stories and action are tailored to suit a particular audience, following a significant period of research. In a visually stimulating way, the plays show a set of circumstances that help people to identify with the problems they see enacted, and encourage them to tackle these problems.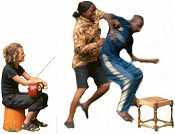 As a visual, physical and entertaining medium, theatre appeals to a lot of people at once. The benefit of using theatre for edu-tainment is that it doesn't matter whether the spectator can read or write; he or she can still understand and take part. I aim to produce professional performances with focused messages using movement, music and dialogue.
Theatre activities provide ways to ask people to think and challenge their ideas and behaviour.
Future research will involve overseas work with companies in the Philippines and in the Solomon Islands, looking at how culturally specific HIV-AIDS messages are represented aesthetically in different continents.
Music Crossing Bridges - http://www.sterneck.net/bridges/crossing/index.php
Music Crossing Bridges is a collection of artists, activists, and organizations gathered with the intent to put on a 3 day festival in Peje, Kosovo in September 2001, celebrating the power of art and music as expressed through many different cultures around the world.
The festival brought together musicians and performing artists from several nations to the beautiful Karagac Park in Peje for a weekend of music, theater, educational workshops and cultural presentations. The aim of the Music Crossing Bridges Festival is to entertain and inspire its audience with the richness of the cultural diversity represented at the event. The previous Summer, at Peace Camp Peje, the volunteers of Balkan Sunflowers helped Albanian, Italian, Egyptian and Bosnian children to join each other in making a multi-cultural festival extravaganza. They proudly paraded through the city together, dressed in traditional ethnic costumes, and sang, on an improvised stage in the park, songs of peace from Israel, Holland and West Africa in the original languages and then in Albanian, English and Bosnian. It was a hope filled day in which one Roman family drove their tractor from a nearby village 15 kilometers to the city park for the first time since the war to see their daughter perform.
It was as if a small bridge had been built across the invisible, but real, canyon of ethnic separation which has fuelled the past decade of war in the Balkans, even if only for a day. Thus is the magic of music, to touch and to heal the human soul, pulling us beyond our known conceptions of identity and prejudice to a common place where all who have ears and hearts are together.
It is our belief that the key to human progress is committed and non-violent dialogue. Let the festival serve as a field for such open, progressive communication.
Crossing Bridges Collective : http://www.theplayground.de/crossingbridges.htm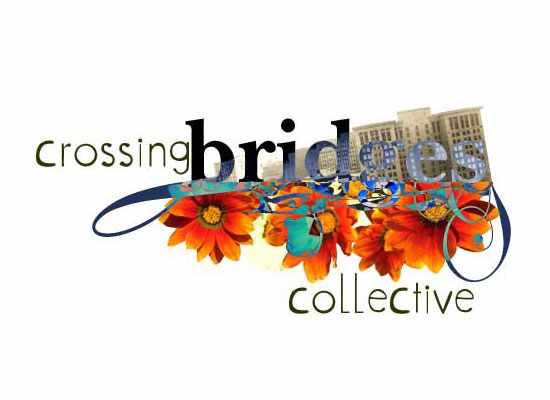 The Crossing Bridges Collective is a registered Kosovar NGO, which works through culture and media to expand the scope of understanding and unity between people. Founded in 2001, the Crossing Bridges Collective is made up of artists, musicians, filmmakers, and activists from Kosovo, Macedonia, Serbia, Germany, USA, Great Britain, and Italy. The work of the Crossing Bridges Collective is built on the foundation that peace and tolerance are achieved through open communication and truthful, creative expression, with a lot of faith thrown into the mix. We believe that by developing projects which promote intercultural cooperation and exchange through music, film, theatre, and progressive activism, we will begin to help open-minded youth from around the Balkans, and the world for that matter, to gain strength and courage to step boldly and speak out loudly for the evolution of humanity.
RAINBOW TRIBE - http://www.rainbowtribe.org/.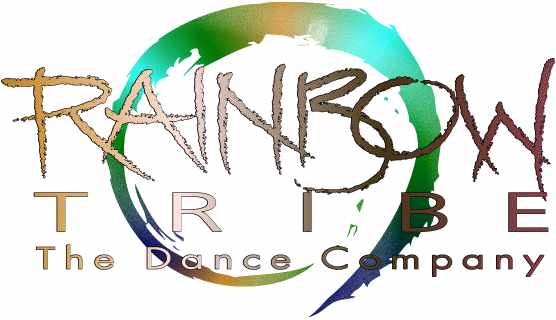 Founded in 1992, Rainbow Tribe, Inc. is a Massachusetts non-profit organization under the artistic direction of Mary V. Mazzulli, dedicated to bridging cultural differences, celebrating diversity and aims to educate through the art and joy of dance. The Rainbow Tribe remains true to the spirit of its late founder, Carleton Jones, a native Bostonian who graced the stages of Broadway and the studios of Los Angeles.
| | |
| --- | --- |
| In 1992, Rainbow Tribe was formed to bridge cultural differences and foster a universal appreciation for dance in all its forms. A contemporary inclusive jazz dance company, The Tribe delivers fiercely intense, high-octane performances through its diverse membership of dancers containing various shapes, colours and sizes. Artistic Director, Mary Mazzulli Perry (pictured), and her leadership team are a powerhouse of dance talent producing entrancing choreography that not only entertains, but motivates audiences. | |
Rainbow Tribe is comprised of a unique group of members including professional dancers, seasoned instructors, entrepreneurs, technology professionals and students, all of whom contribute a host of talents, abilities and choreographic style. Yet, what sets us apart and what makes us different from other professional dance companies is our investment in our audience; how we energize, entertain and engage them in body, mind and spirit. We are an eclectic and thought-provoking company that will leave you wanting more, or more often, wanting to join us and the fun we have wherever we perform. We hope that you will not only become a frequent visitor to our web site, but also to our upcoming performances. And, don't forget your dancing shoes!
Music Bridges Around the World - http://www.unisong.com/mbridge/about.html

Music Bridges is dedicated to the creation and development of International music collaboration projects and related special events that serve as a vital cultural link between nations and foster better understanding and smoother growth of the global market that is further illuminated by such interactions.
Founder Alan Roy Scott has a well known international reputation for successfully organizing several such projects since 1988. In 1999 it was in Havana, Cuba. In 1997 in western Ireland. In 1995 28 top US and European artists and songwriters travelled to Bali and Jakarta, Indonesia to collaborate with artists and songwriters from Indonesia, China, Vietnam, Thailand, Malaysia, The Philippines, Hong Kong and Australia on the creation of new original songs. The best of these songs were performed in a Charity Concert that raised over $5,000,000 (US) for Sumatra earthquake victims.
in 2000 it was at Expo 2000 in Hanover Germany where the following photograph was taken (courtesy of David Stark).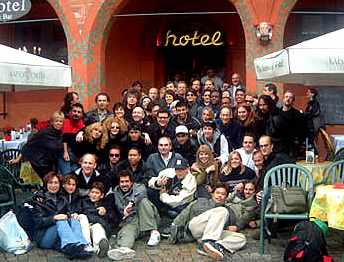 Kick La Luna - http://www.kicklaluna.com/de/band.html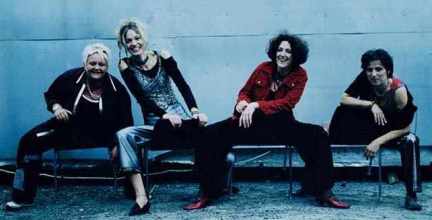 We end this section with lyrics taken from the website of the German funk rock band Kick La Luna as being particularly appropriate to our theme.
Bridges
Bridges building bridges
Bridges to you with music
Bridges building bridges
Bridges to me and to the spirit
over the years with music
over the years with music
over the years

We travelled all over the world
we've seen so many different colours of life
we are grateful to feel that music
could be stronger than any kind of borders

The rhythm sank deeply in our souls carried us away
we danced together we sang your song
even if we don't understand each single word

Thank you for each little song we sing and danced with you
we sing it from our heart
this gift is from you

Bridges ...

The music brings us closer together
gives us a little peace in a troubled time
we shared our joy we shared our tears
we shared the power of music in our hearts

We've got so many different faces on our earth
with beautiful different shapes
how could there be war when we share our music
when we built up together a vision of one world
Musik & words: Elke Voltz