The Smart Affair
Described by Joe Sinclair
Preamble
According to her 9-year old sister, who was asleep in the same bedroom at the time, and feigned sleep for a further two hours before telling her parents, Elizabeth Smart was kidnapped at gunpoint. Subsequently this was changed to "knife-point". But we get ahead of ourselves. The abduction took place at the Smarts home in Salt Lake City, Utah on June 5, 2002.
Just over eight months later, Brian David Mitchell, who had been sought by the police for questioning for the reason that he had worked as a handyman at the Smart residence for one day in 2001, was spotted in a Sandy, Utah street with two female companions. .. When he was stopped by the officers, one of his companions was wearing a grey wig and a veil. On being questioned she was identified as Elizabeth Smart and was promptly reunited with her family. Mitchell and his other companion, his wife Wanda Ileen Barzee, were arrested as suspected kidnappers.

Mitchell and Barzee after their capture
According to the arresting officers, Elizabeth initially identified herself to them as "Augustine." She also said, "I know what you're thinking. You guys think I'm that Elizabeth Smart girl who ran away." When pressed further by the officers to admit that she was indeed Elizabeth Smart, she finally said, "Thou sayest it," Officer Victor Quezada said he "took that as a yes."
To protect her from face-to-face media exposure, Elizabeth was kept close to her family, and her father stated that she was not being "questioned to death" at home about her activities. Later in the year, when the family was receiving counselling. Elizabeth took her parents to the location where she had been held.
In the days that followed Smart's recovery, several people came forward with details of earlier sightings in which Elizabeth did not seem to be held against her will. She had even been photographed attending a party wearing a veil and, on another occasion, strolling with Mitchell and Barzee in a park. According to Elizabeth's father in appearances after the recovery, Elizabeth did know about some of the family's search efforts, but missed the billboard notices posted on the freeways. Also, she had heard her uncle calling for her during one of the search efforts in the hills behind the Smart residence.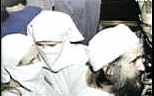 At a street party in Salt Lake City. It is thought that these are (L to R) Barzee, Elizabeth Smart and Mitchell
It is alleged that Elizabeth had lived under a constant threat of Mitchell having the ability to murder her and harm her family.
Mitchell, who called himself "Immanuel David Isaiah," is speculated to have sought Smart as a bride.
The kidnapping
The facts surrounding Smart's alleged kidnapping are still unclear. For months, the only available witness to the abduction was Mary Katherine Smart, Elizabeth's 9-year-old sister who slept with her in the same bedroom. According to Mary Katherine, Elizabeth was instructed at gunpoint (a detail later altered to "knifepoint") by an intruder to put on her gym shoes and leave with him. The little sister said she tried to follow them outside the room but returned to hide another two hours before telling her parents of Elizabeth's disappearance. There was also confusion over whether a screen had been cut from outside or inside the house, for purposes of either entering the house or creating a red herring. No matching prints for Mitchell were found in Elizabeth's bedroom.
Perhaps most puzzling is the fact that the sketch released by the Smart family and based on Mary Katherine's recollections depicts a perpetrator with no facial hair, whereas photographs of Brian Mitchell both before and after June 5, 2002, show him with a full beard.
The aftermath
Smart's parents, Ed and Lois Smart, and the extended family, persistently maintained a presence in the local and national media, fighting hard to keep their story of family loss, faith and hope from fading away. They provided the media with home movies of Elizabeth as both a teenager and as a child, and uploaded over 20 photos of her on a website which served as a resource centre,
The parents' persistent appeals through the media brought much good will, in the form of large groups of volunteers conducting searches throughout different areas, and also built a platform from which to promote an "amber alert" (This is an advice to the general public, in both the USA and Canada, via the media, regarding a confirmed abduction of a child.) Daily media attention also brought about much sensationalism and pundit speculation. Night after night, radio and television talk shows featured numerous commentators with conflicting opinions.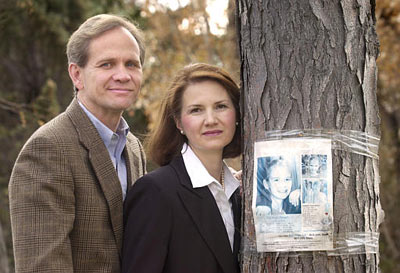 Elizabeth's parents, Ed and Lois Smart, and one of their billposters
In addition, there developed some tensions as the parents accused the police of not thoroughly following up on leads. On the day of Smart's return, the authorities joined the community in expressing great pleasure with the outcome. Yet, it was the media coverage provided by John Walsh in an appearance on Larry King Live and on his own series, America's Most Wanted, that started the nationwide hunt for Brian Mitchell and led to his being identified by passers-by in March 2003.
After that date, the media began to focus on the Mormon Church and the history of polygamy in Utah, and published a 27-page religious tract by Mitchell, The Book of Immanual David Isaiah,[1] the name he had chosen for himself. The Smarts are members of the Mormon Church, and both Mitchell and Barzee had been at one time practicing Mormons as well. According to Mitchell's defense attorney, Larry Long, Brian Mitchell insists he has two wives: Wanda Barzee, or "Hephzibah Eladah Isaiah," and Elizabeth Smart, whom he calls, "Shear Jashub Isaiah" or "Remnant Who Will Return."
It has been pointed out by some cynical observers that the story of Elizabeth Smart's recovery came at a time of intense debate at the United Nations about the legitimacy of a war against Iraq. The rare and joyous news of a child's safe recovery gave news outlets a heartwarming story to report, and even prompted President George W. Bush to call Elizabeth's father, and to wish the family well.
Sociologists not involved with the case have speculated that Smart has apparently been exhibiting symptoms of the Stockholm syndrome. Smart's father, however, claimed that Elizabeth had been brainwashed, a suggestion that was supported by Barzee's estranged 27-year-old daughter, who added that drugs may also have been involved. Authorities indicated that no drugs were found on the kidnapping suspects and there has been no evidence that Mitchell or Barzee practiced any brainwashing techniques on others.
Following Smart's return
In photos taken of Elizabeth shortly after her return, she appeared heavier than just before her abduction. In fact, she was apparently only given meals of bread while a captive, but overexposure to the sun had made her face swollen, despite her use of a veil.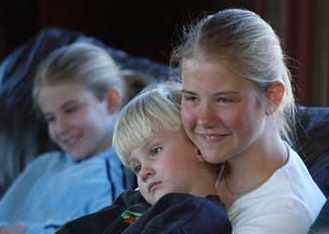 Elizabeth Smart reunited with her siblings
Smart's heavier appearance, and the timing of her recovery also produced some speculation that her kidnap was an elaborate ruse to cover up an embarrassing pregnancy. Following her return, Elizabeth appeared on the Oprah Winfrey television show and talked in sparse detail about her abduction. One detail she disclosed is that Mitchell forced her to keep a diary and to write in it daily. She knew he would read the entries she made, so she wrote such things as:
"I like it here. They are nice to me."
But below the entries in English she added such phrases in French as:
"I hate it here. I hate them. I want to be back with my family."
She also revealed that after her experience, she has more compassion for the homeless. Asked if she felt sorry for her captors then, she stated that she was not referring to them and that they were homeless by choice and had no compassion for their condition or what they did to her. But she went on to say that, "It's hard to be cold. It's hard to not have enough to eat."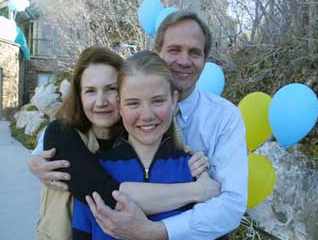 Reunited with her mother and father
The Trial
Mitchell and Barzee are being held on $10 million bond awaiting the outcome of mental competency tests. The results will indicate whether they are fit to stand trial on charges including kidnapping, sexual assault and burglary. The prosecution case comprises also the suggestion that Mitchell and Barzee kidnapped Elizabeth to be Mitchell's second wife.
Mitchell and Barzee in custody
Considerations
Since Elizabeth Smart's safe return home, the most frequently asked questions are: Why didn't she run for help when she had the chance? Why did she refuse to reveal her true identity when she was first approached by the police who arrested her captors?
The majority opinion seems to favour the conclusion that, like Patty Hearst, Elizabeth Smart is another example of Stockholm syndrome, and that she must have been brainwashed by her captors.
UPDATE - June 7, 2004
The Utah Supreme Court ruled that media attorneys may present arguments for opening Brian David Mitchell's competency hearing (currently on hold) to the media. Mitchell's attorneys had filed a petition arguing that the media has no standing to make such a request.
[1] Click the link in the article, or click below, for Mitchell's treatise in pdf format http://www.sltrib.com/2003/Mar/03142003/Manifesto/book.pdf