Iím Right Here Grandma!
by Paul W. Schenk, Psy.D.
[Biodata and picture of contributor will be found by clicking here]
In my first session with a new psychotherapy client, I draw a family tree. It provides a clean way to organize information, and the information I get is often very useful. As I asked "Olivia" about her family, things went smoothly until I got to her grandchildren. She began to tear up as she told me about the death the previous year of her only grandchild. "Rachel" was only three when she lost a battle with leukaemia. Oliviaís grief was still evident as she talked.
When I encounter a significant loss such as this, I pose a question that may seem odd to many. I asked Olivia, "Have you heard from Rachel since she died?" Her eyes offered the initial reaction I typically get: "Heíll think Iím crazy if I answer ĎYesí!" Then, like most, she seemed to realize that if I could ask the question, I would not be surprised at such an answer. Somewhat hesitantly, she told me that it felt as if Rachel had come to her in a dream one night, soon after the girl had died. It had been a pleasant experience. I followed up on this and asked her if she would like to hear from Rachel again. As before, she gave me a look of mixed disbelief and puzzlement. Once again, she answered, "Yes."
As a psychologist, I have encountered many first-hand stories of people who have had contact with deceased relatives. Iíve had my own. Dr. Raymond Moody has written about this phenomenon in his book, Life After Loss. In the United States, John Edwardsí television show Crossing Over represents an indirect version of this kind of contact. Dr. Gary Schwartz has also researched psychic contacts in his book, The Afterlife Experiments. One commonality of these experiences is the emotional healing that occurs. Whether the contact is real or imagined, the impact is unmistakable.
I asked Olivia to tell me about one of the places where she used to spend time with Rachel. Some of her favorite memories were of times they had spent together at the beach. I invited her to close her eyes and go back to that beach in her mind. She saw herself standing there alone on the sand on a bright, sunny day. I gave her a moment to let the image become more vivid. Then I said simply, "When youíre ready, turn and look in the other direction and tell me what you see." Tears began quietly running down her cheeks as she softly told me that Rachel was walking along the sand towards her. When the little girl reached her grandmother, she reached up and took her hand. I sat quietly for another minute and then intuitively told Olivia, "Itís okay to ask her the question." Without hesitation, Olivia spoke, "Why did you leave?" I confess that hers werenít the only tears in the room when she volunteered Rachelís response. While still holding her grandmotherís hand, the little girl had looked up into Oliviaís eyes and said, "But Grandma, Iím right here."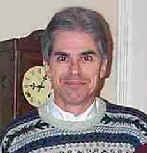 Dr Paul Schenk, Psy.D is a clinical psychologist in private practice in Atlanta, Georgia, USA since 1979, where he maintains a diverse practice providing evaluation and therapy for families, couples, and individuals.

Dr. Schenkís special interests include the evaluation and treatment of sexual abuse in children and adults, the evaluation of ADD and learning problems in children, adolescents and adults, and the clinical uses of hypnosis for the diagnosis and treatment of a variety of problems.

He is the author of Great Ways to Sabotage a Good Conversation [available at

www.drpaulschenk.com] Email: drpaulschenk@mindspring.com