A Dream Fulfilled
Joe Sinclair interviews Yaron Livay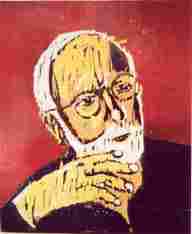 [Woodcut self-portrait by Yaron]
[We are associates, collaborators and good friends. He illustrated the book Peace of Mind is a Piece of Cake, written by Michael Mallows and myself, taking a chance on the book ever selling enough copies to enjoy royalty receipts. His faith was justified this month (3 years on!) by the first royalty statement from the publishers. Undeterred by the lack of financial return - a remarkable attitude on the part of a chartered accountant of 40 years standing - he agreed to act as graphics editor for Nurturing Potential. His joy of life and appearance (behind the grey hair and beard) of perennial youth, has disguised for too long my recognition that he is himself an ideal candidate for the Third Age section of Nurturing Potential.]
"At the age of 13 I published a daily newspaper about local events in the village near Jaffa where I was then living."
Thus Yaron betrayed the artistic seed that was nurtured through the greater part of half a century devoted to establishing, developing and maintaining a successful accountancy business in Tel Aviv, Israel. He continued to follow this literary path during his military service in the Israeli Navy, publishing, illustrating and printing a newspaper on an old Gestetner (remember those?), which he called The Plank Never Sinks [translated from its Hebrew title].
At age 21 he still planned to be a writer/journalist/cartoonist and, indeed, following his write-up of a Greek shipping disaster, his story was taken up by a leading Israeli newspaper, whose editor met Yaron and was dismayed by his decision to forsake the world of journalism. The editor told him that this would be a great loss to Israeli journalism.
Alas . . . having recently married, Yaron needed to "earn a living", and chose the path of accountancy.
But he continued to write and draw. His commercial career gave him access to some interesting stories that professional considerations forbade him from disclosing. So he published stories pseudonymously as Sunday Watchdog, some of which caused quite a stir. "But mostly", he confesses, "I wrote balance sheets."
By the time he was 60, Yaron's artistic seed was becoming difficult to ignore. At this time, by coincidence, he met Mehahem Gueffen an artist (who had been married to actress Diana Rigg of Avengers fame) who needed help with his financial affairs. "I knew how unlikely it was to be paid by an artist," joked Yaron, "so I suggested to him that he could repay me with an introduction to someone in London who might give me art lessons."
Gueffen introduced him to Natalie d'Arbeloff, a multi-talented artist, writer and teacher living in North London, who might herself be a candidate for inclusion in this Third Age series..[1] Natalie's main activity at that time being in the area of printmaking, it was inevitable that this would be the initial direction taken by Yaron.
The first book produced by Yaron, just one month after his introduction to printmaking by Natalie, was called The Lecture. This was an exploration of the relationship between philosophy and art. It was spotted by a representative of the Victoria and Albert Museum who happened to be visiting Natalie's studio and, on his recommendation, the V&A bought it. This was an incredible success story, and Yaron ultimately produced a limited edition of 20.

[Click on thumbnail to view full-size picture]
From this point onwards Yaron has not looked back. One of his sons took over the accountancy business in Tel Aviv and Yaron explored the entire gamut of art forms, including painting, etching, woodcuts, and monotypes. Of the latter, two examples from his work on Mozart's Magic Flute illustrate the home page of this issue. Earlier he had produced a book composed of a series of linocuts based on Handel's Water Music, entitled Rendezvous with Handel that was purchased by the Handel museum in the composer's birthplace of Halle, Germany.
Yaron's work has also been purchased by the Metropolitan Art Museum of New York, the Imperial War Museum of London and the Museum of the Book in The Hague..
Amongst his recent works are a series of etchings based on the Iraq War, that he describes as Mediawar etchings, two of which are reproduced below.
[Click on thumbnails for full-size pictures]
"Finally," says Yaron "with my studio in London, able to do the work that really makes me happy, and with the knowledge that my son is not only handling the accountancy business, but is doing it far better than I was ever able to do . . . it is a dream fulfilled."

[The dream is fulfilled - London, 2003 - click on thumbnail to see it full size]
[1] Natalie d'Arbeloff introduced me to Yaron when I was looking for an illustrator for the Peace of Mind book. Subsequently, when Natalie had to withdraw from her graphics editorial work with Nurturing Potential, because of time constraints, Yaron kindly stepped into the breech. Natalie's mother, in fact, featured as the subject of our Third Age article in Online Issue No. 3 of Nurturing Potential; her mother's painting illustrated our second paper issue, and Natalie's own work illustrated the third paper issue. Altogether, you might think, a very synergistic relationship. Natalie's website is accessible via: http://www.nataliedarbeloff.com/