SEVEN DIFFERENT TYPES OF RELATIONSHIP
A Nurturing Potential Introduction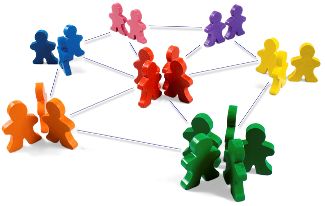 [This is an introduction to the subject of relationships that will be continued in subsequent issues of New Nurturing Potential. For now, you can get some idea of the scope of our future articles by the links herein to sources on the Internet.]
To most people, nowadays, the word relationship - without any defining or modifying adjective - will be taken to mean a personal, domestic or sexual connection.
In theory there is nothing wrong with this. The pity is that - as, for example, with the word "partner" whose identification seems to be with the solitary meaning of "life partner" or "significant other" - this means that any other definition, such as any form of connection, association or involvement in any other area of existence tends to be overlooked, unless it is spelled out in advance.
A healthy personal relationship can be a great strength . Its benefits will extend to all aspects of your life, including your health, your peace of mind, and your involvement with others. However, if the relationship isn't working, it can also be a tremendous burden. Relationships are an investment. The more you invest, the greater the potential return. Close relationships are sometimes called interpersonal relationships.
Our most intimate relationships are usually with family and a small circle of close friends. Interpersonal relationships require the most effort to nurture and maintain, but they also give the most joy and satisfaction. An interpersonal relationship may range from fleeting to enduring; they exist in the context of social, cultural, professional and other situations. The degree of intimacy will vary according to the common ground that is shared between the participants, and may change during the course of their existence, because interpersonal relationships are dynamic: they grow and they improve, or the gradually deteriorate as feelings and aspirations change.
Among the many different types of relationship, and here we have endeavoured to classify them according to seven types, with sub-types and further sub-divisions.
Cultural
Cross-cultural
Family
Nurture
Nuclear
Personal
Internet
Intimate
Romantic
Professional
Business
General Partnership
Targeted
Tentative
Transactional
Trusted
Limited Partnership
Limited Liability Organisation
Contractual
Linguistic
Genetic
Semantic
Scientific
Physics
Biological
Chemical
Educational
Teacher
Student
Resources
Therapeutic
Practitioner
Client
Here now are some brief comments on the seven main headings together with some suggested links to other sites where you might wish to gain some further information in advance of our more detailed article in the Autumn 2014 issue of New Nurturing Potential which will publish in September 2014.
A cultural relationship
Really this is more accurately described as an intercultural relationship and refers to the interaction between people of different societies or different cultures. Or the relationship with social groups of other beliefs, values or behaviours. The Hungarian Institute for Cultural Relations Policy has an interesting site at http://culturalrelations.org/
A personal relationship
Some personal cross-cultural issues are addressed at http://www.counselling-directory.org.uk/cross-cultural-relationships.html and situations of abusive relationships were covered in an article in Issue 14 of Nurturing Potential http://www.nurturingpotential.net/Issue14/Recovery.htm
A professional relationship
A professional relationship is the interaction between colleagues, clients, and business-associated persons, and involves work related issues. As with any other relationship it requires effort and must be mutually beneficial. Take a look at http://leadinginsight.com/business_relationships.htm
A linguistic relationship
The relationship which exists between languages that are members of the same language family
A scientific relationship
The relationship between organisms.
An educational relationship
The relationship between teachers and their students. This is a useful link to a book describing how to improve the positivity of teacher-student interaction http://www.ascd.org/publications/books/105124/chapters/Developing_Positive_Teacher-Student_Relations.aspx
A therapeutic relationship
This refers to the relationship between a healthcare professional and a client or patient. It is way in which a therapist and a client engage with each other to effect beneficial change in the client.
---
Of the several theories that have been constructed in connection with various forms of relationship, here are some that we shall deal with in the next issue of the magazine:
Attachment/Affiliation Theory
Relationship Awareness Theory
Social Exchange Theory
Equity Theory
Minding Relationships Theory
---
The non-profit internet resource helpguide.org can be unhesitatingly recommended for its wealth of valuable advice and suggestions on a vast number of mental, spiritual and physical health-related issues. Their article dealing with Relationships may be viewed here http://www.helpguide.org/mental/improve_relationships.htm